After a slow start and what coach Jordan McCarty termed "a few uncharacteristic mistakes," Langley Rams went on to defeat the Prince George Kodiaks 39-17 during a Saturday, Sept. 16 visit to Masich Stadium.
"It was a tough game as they [Kodiaks] were fighting for a playoff spot," McCarty told the Langley Advance Times.
"As the game went on, we got the ball rolling but overall, we are not satisfied with how we played. This upcoming week and throughout the rest of the season we will display the necessary effort and attitude it takes to compete at the highest level within this conference," McCarty said.
"If you want to win, you must be at your best in this conference."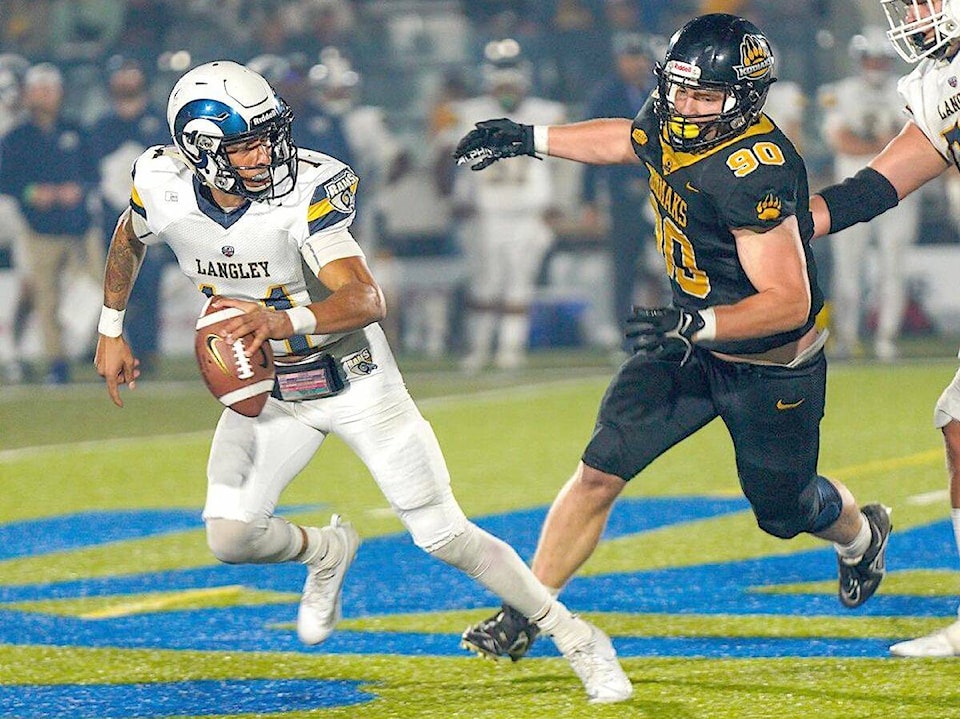 Rams receiver Isaiah Edwards caught two touchdown passes for 51 yards, running back Bruce Jones scored twice on 12 carries and Drew Lirage recovered a loose ball and returned it 46 yards for a touchdown.
Trey Jones competed 18 of 25 passes
Defensively, Kinneth Balucos led the Rams with 12 points including a 20-yard interception return.
Langley was in front for the entire game, leading 9-0 at the end of the first quarter, 18-3 by the end of the second, 25-10 at the close of the third and 39-17 at the end.
The visitors had a net offence of 403 yards, 164 yards total rushing, and 239 yards passing compared to the home team's net of 193.
On the Kodiaks side, quarterback Kayle Cowley threw two touchdown passes finding Jerome Erickson and Kaden Wagner.
Their defence was led by Aidan Simpson and Jason Kragt who each had eight tackles, with Simpson adding an interception and a knockdown.
READ ALSO: Rams roll over Kodiaks
It was the second half of a home-and-home series that saw the Rams flatten the Kodiaks 62-0 the week before.
In that game, Rams defence held the Kodiaks to 36 passing yards and 61 rushing yards.
Both Trey Jones and Maxwell Bougie each threw a pair of touchdown passes.
The Rams currently hold down the final playoff sport in the BC Conference ahead of the Kodiaks, with four wins in their last five.
Next up, Rams (4-2) will visit the Vancouver Island Raiders (0-7) in Nanaimo at Nanaimo District Secondary School on Saturday Sept 23. Game starts at 5:30 p.m.
READ ALSO: Langley Rams away game canceled by fire