Drum roll please.
Langley will be well represented on the red carpet at the Georgie Awards this spring.
For those unfamiliar, the Georgies are awards handed out by the Canadian Home Builders' Association of BC (CHBA BC), and the recently released list of finalists is thick with Langley companies and projects.
Georgie Awards are B.C.'s prestigious home building, renovation, and real estate awards – with nearly 50 different categories. The categories focus around new and renovated residential construction; interior design, merchandising and landscaping; sales and marketing; special achievement; and then there are the overall Grand Georgie Awards.
Hayer Builders Group (Hayer Town Centre), Zenterra Developments Ltd. (Mayfair), and Miracon Developments Inc. (Foundry) are just a few of the local companies on the shortlist in multiple categories for their residential projects in Langley.
All three, for instance, are up for the bigger-picture awards of multi-family home builder of the year, as well as the residential community of the year.
Miracon is a name on the Georgie list repeatedly in 2023.
They're in the running for their work on Foundry, which they are currently building just west of 200th Street, in Willoughby. It features 106 townhouse units along 80th Avenue and 197th Street. It's composed of 10 buildings in total, including a fully restored circa 1939 heritage house (Rizun residence).
They broke ground on Foundry in January 2021 and will be compete this summer, with the final possession is June. As of last week, it was already more than 85-per-cent occupied.
One of the unit's plans is a contender for the best interior design display suite category for the Georgie Awards, and Foundry is also up for best multi-family townhouse development (over 10 units), and best new multi-family kitchen.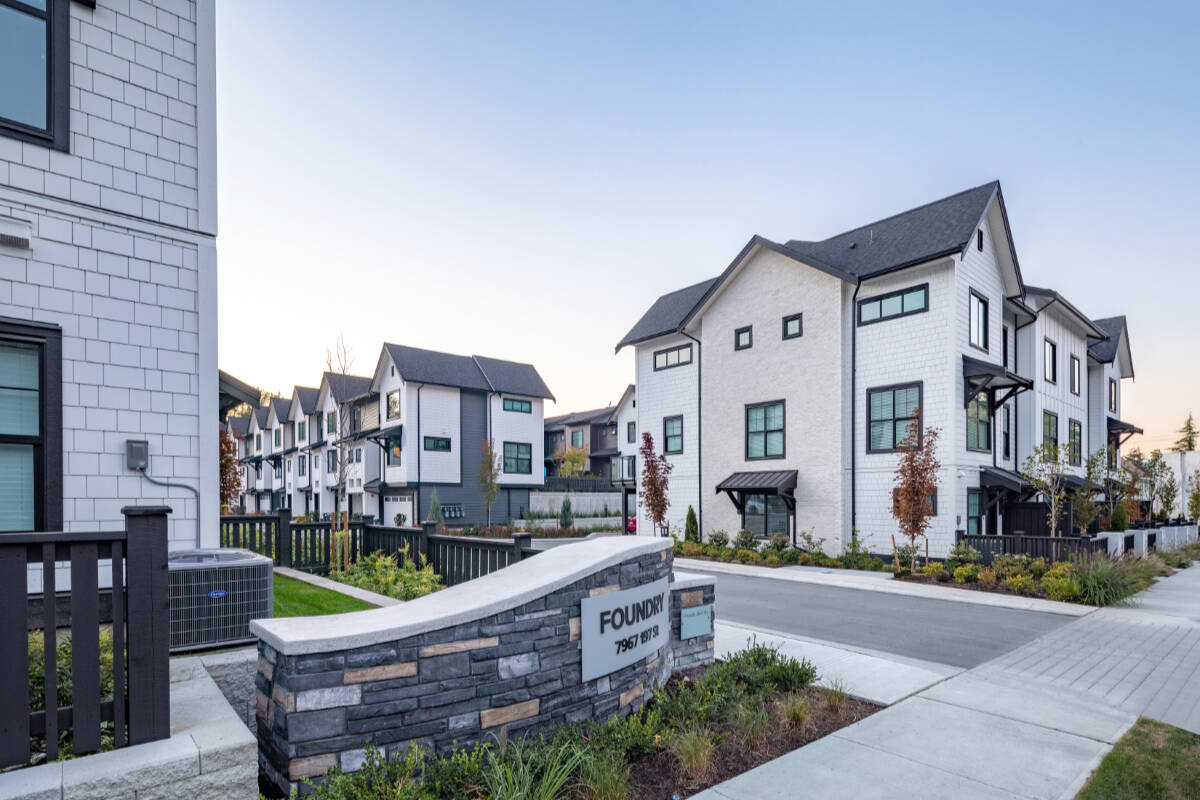 Qualifying for the final makes Miracon president Ryan O'Shea proud, but he was quick to share credit with the company's 20 employees (between land development and residential construction).
"It's always an honour to be recognized amongst your industry peers at the provincial housing awards," O'Shea said.
"For the Miracon team, these awards are less about retention, future hiring, or sales but rather they act as a testament to our core values and reinforce that fact that we are building the types of communities that people are proud to call home," he explained.
In addition to all the other awards this Cloverdale company is up for this year, they're also up for a special achievement award for an environmental initiative in Phase 2 of the Foundry project.
O'Shea described a 300-metre-long walking pathway running along the perimetre of Foundry as a collaborative initiative, saying Miracon worked closely with Township of Langley staff, as well as environmental and landscape consultants, to construct the three-metre-wide trail for not only Foundry residents, but neighbours in the Latimer area.
"This walking trail, which connects the larger community, is located adjacent to an environmentally sensitive streamside protection and enhancement area. It was integral to the construction process to ensure that there was minimal environmental impact to the surrounding area while helping to build a safe walking trail that would connect Foundry to the surrounding and emerging community," he said.
Miracon has been building single-family and multi-family homes since 2014, and been a contender and winner of several Georgie Awards in past, including best single-family builder of the year (2018), best single-family detached home (2019), and best customer service builder (2021).
O'Shea was asked specifically why he thought his latest Langley project was among so many other local finalists on the Georgie Awards list this year.
"Langley is a fantastic place to live and work… Given the rapid pace of growth and development in Langley it is no surprise that some of the best builders in B.C. are building award-winning communities in the Township and Langley City. We are humbled and honoured to be chosen as a finalist with so many other talented builders who are equally committed to building award-winning communities in Langley that add value and permanent residents to the surrounding community," he concluded.
Other locals are contenders
Hayer is also up for the Georgie's marketing campaign of the year, best sales centre, best advertising campaign, best corporate/project website, best interior design display suite, and best new multi-family kitchen for the Hayer Town Centre project unfolding along 200th Street, near 80th Avenue.
It's a modern master-planned community of 338 condominiums and 35,000 square feet of shops and service near the westerly border of Langley – across from Langley Events Centre.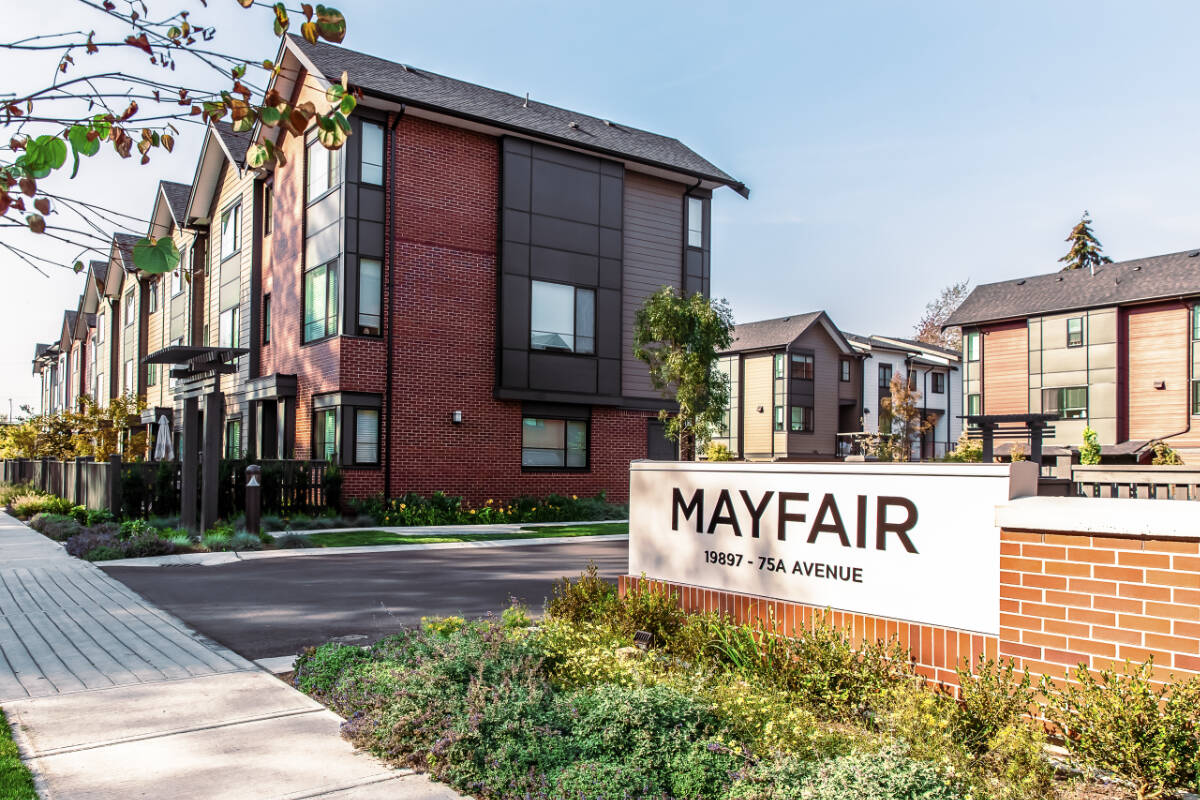 Another name that pops up a lot on the Georgie shortlist is Zenterra, also up for best multi-family townhouse development (over 10 units), and best new multi-family kitchen for a sold-out, three- and four-bedroom contemporary townhouse project, called Mayfair, which is also along 200th Street, but further south – about 76th Avenue.
Also up for a couple Georgie Awards is Sandhill Developments Ltd. for its Denby project in Langley. This company is in the running for best landscape and best multi-family townhouse development (over 10 units).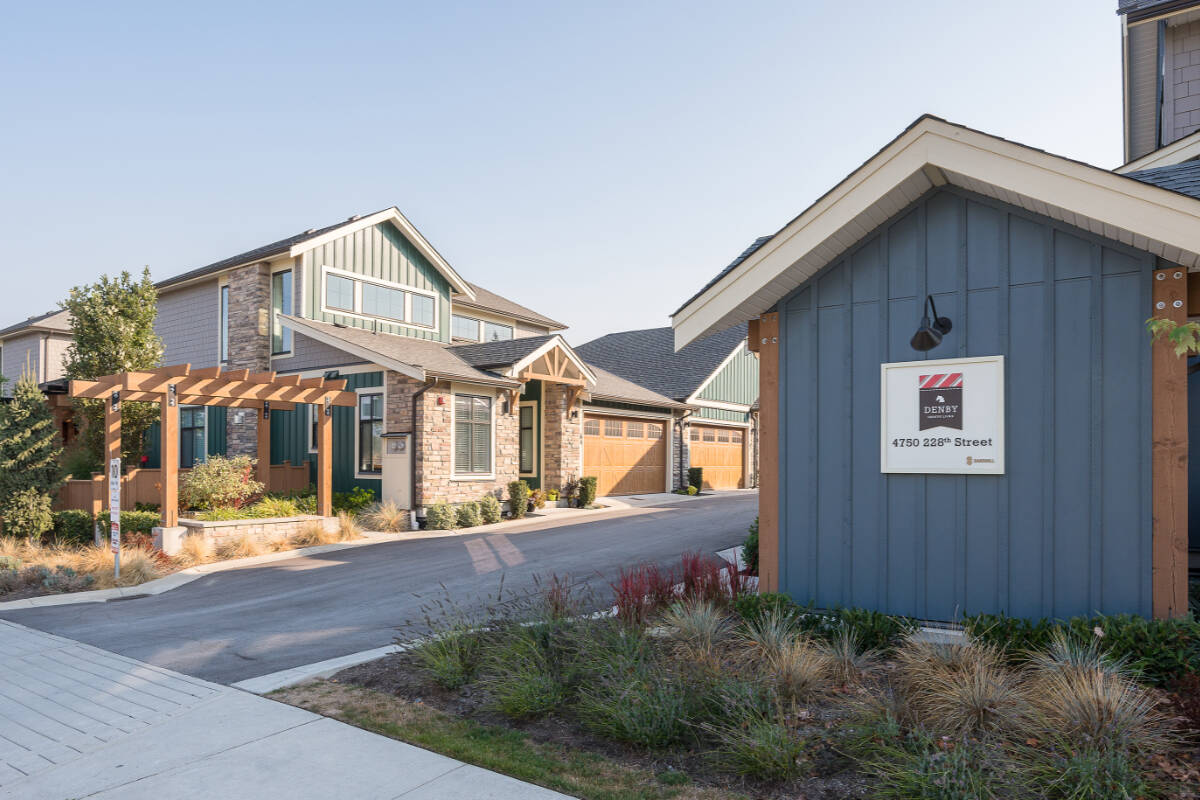 Kingdom Builders' Queen Mary project in Fort Langley is also up for a few potential awards: best outdoor living space, best energy-labelled custom-built home, and best single-family kitchen (over $200,000).
Also in Langley, Skye Marketing made the shortlist for best website for the Unison project. Heirloom Projects is up for best new or renovated interior design of a custom residence for the Southridge Modern Cottage.
And while most of the Langley finalists are in the running for multi-family efforts, when it came to building a $3M-plus custom home, Homestar Building Corp. is a contender for the Yi-Li Manor.
To be eligible for a Georgie, the company must be a CHBA BC member, and the submitted project must have been built, renovated, developed, created, and marketed from Jan. 1, 2021 to Nov. 1, 2022.
Finalists and winners are selected by a judging panel of out-of-province industry professionals, explained Neil Moody, CEO for the builders' association.
"To win a Georgie Award means your company has been recognized for excellence in home building with a commitment to quality, durability, the latest building techniques, and design trends. To be named a finalist for this coveted award is a great achievement," Moody said.
"This has been a year of change in residential construction with the pressures of a higher interest rate environment. It's important for us to gather together to celebrate our accomplishments and look forward to the next phase for our industry," he added.
The winners will be crowned during a gala at the Hyatt Regency Hotel in Vancouver on May 20.
O'Shea described the event as an opportunity for builders to celebrate with their own teams and other industry professionals.
"The Georgie awards gala is one of the biggest and most exciting industry events of the year and it provides us with an opportunity to celebrate our achievements together as a team," he said.
The CHBA is an advocate for the residential construction industry, representing 2,200 member firms through our eight affiliated home building associations. Members represent small- and medium-sized businesses and are builders, renovators, tradespeople, service professionals, and suppliers.
"We are essential to supporting the province's housing needs and economic prosperity," said Moody, noting that in 2021, the industry was as one of the largest sources of employment in the province. The residential construction industry provided more than 200,000 on and off-site jobs, more than $14 billion in wages in British Columbia.
READ MORE: Langley builder appointed national industry president
RELATED: Several Langley homes and projects honoured with Georgie Awards
.
---
Have a story tip? Email: news@langleyadvancetimes.com
Like us on Facebook and follow us on Twitter.