Supt. Adrian Marsden, the officer in charge of the Langley RCMP, brought a towel for his short trip from the main police detachment to firehall No. 6 in Murrayville on Monday morning, June 5.
He made the journey of few blocks to be hosed down by retiring Langley Township acting fire chief Bruce Ferguson.
It was the result of a competition between Langley firefighters and RCMP to see who could make the most blood donations, with the loser getting soaked by a fire hose.
Ferguson had figured he would be the one getting doused, since it was an RCMP idea.
"They actually spun it as a emergency services blood drive clinic and we were on board with that," Ferguson explained.
Then, Arleen Asi from Canadian Blood Service suggested turning it into a challenge between the RCMP and Langley firefighters, with the loser getting hosed.
"The idea of the campaign is to actually get everyone to to become a blood donor," Asi explained.
"So we're shining a light on the new donors."
When the tally was complete, the firefighters were ahead, by "a lot," Marsden commented.
"I believe the numbers were 29 for the RCMP and 44 for the fire department," Ferguson estimated.
"That's 44 individual donors."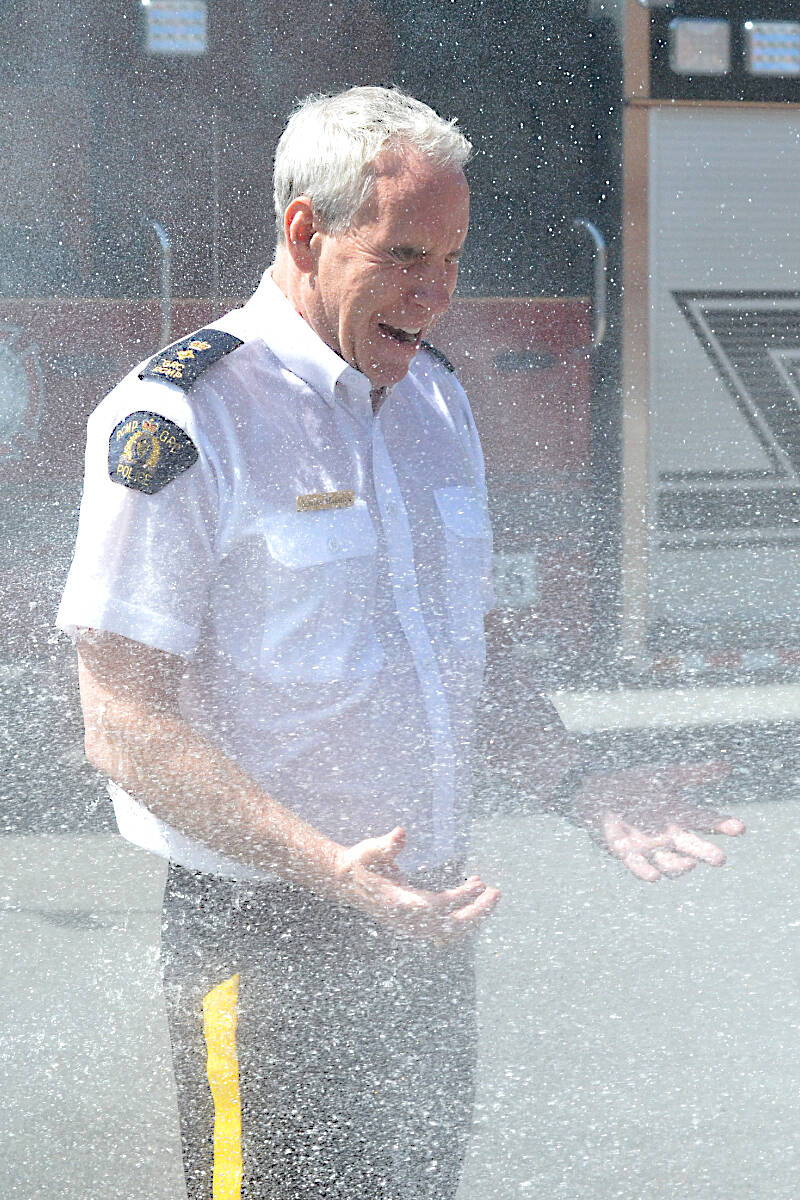 Which was why, after Supt. Marsden removed his protective vest and utility belt to stand in the back parking lot of the firehall, Ferguson did the soaking with a firehose – as incoming fire chief Jason de Roy looked on.
Marsden winced, but didn't flinch.
"That is actually a little cold," he commented.
"It was above my waist," he said when the soaking finally stopped.
"That was the important thing."
It was the second time this year that Langley RCMP have endured a chilly soaking for a good cause.
As part of a province-wide Polar Plunge campaign for B.C. Special Olympics, eight Langley RCMP officers, and two firefighters, got soaked at the fire department training facility in Murrayville on the last day of February, when snow was still on the ground and temperatures were barely above freezing.
More photos from the Monday soaking can be seen online at the Langley Advance Times Facebook page.
READ ALSO: VIDEO: Getting soaked in a good cause: Langley RCMP take Polar Plunge
READ ALSO: New Langley Township fire chief named
---
Have a story tip? Email: dan.ferguson@langleyadvancetimes.com
Like us on Facebook and follow us on Twitter.