Patrick Calihou said sourcing nails to build an authentic York boat at historic Fort Langley became more of a challenge than he expected, when the pandemic forced a shutdown of the fort's blacksmith shop, which had been making the proper type of nails to hold the wooden vessel together.
"He [the blacksmith] made as many as he could." Calihou recalled as the two-day Vive les Voyageurs celebration of French-Canadian and Metis culture at the Fort Langley National Historic Site at 23422 Mavis Ave. got underway on Saturday, Jan. 21.
After the blacksmith had to close up shop, Calihou was able to import substitute nails from an American source, but said they were not nearly as good as the hand-made nails from the fort forge.
"They were perfect," Calihou told the Langley Advance Times.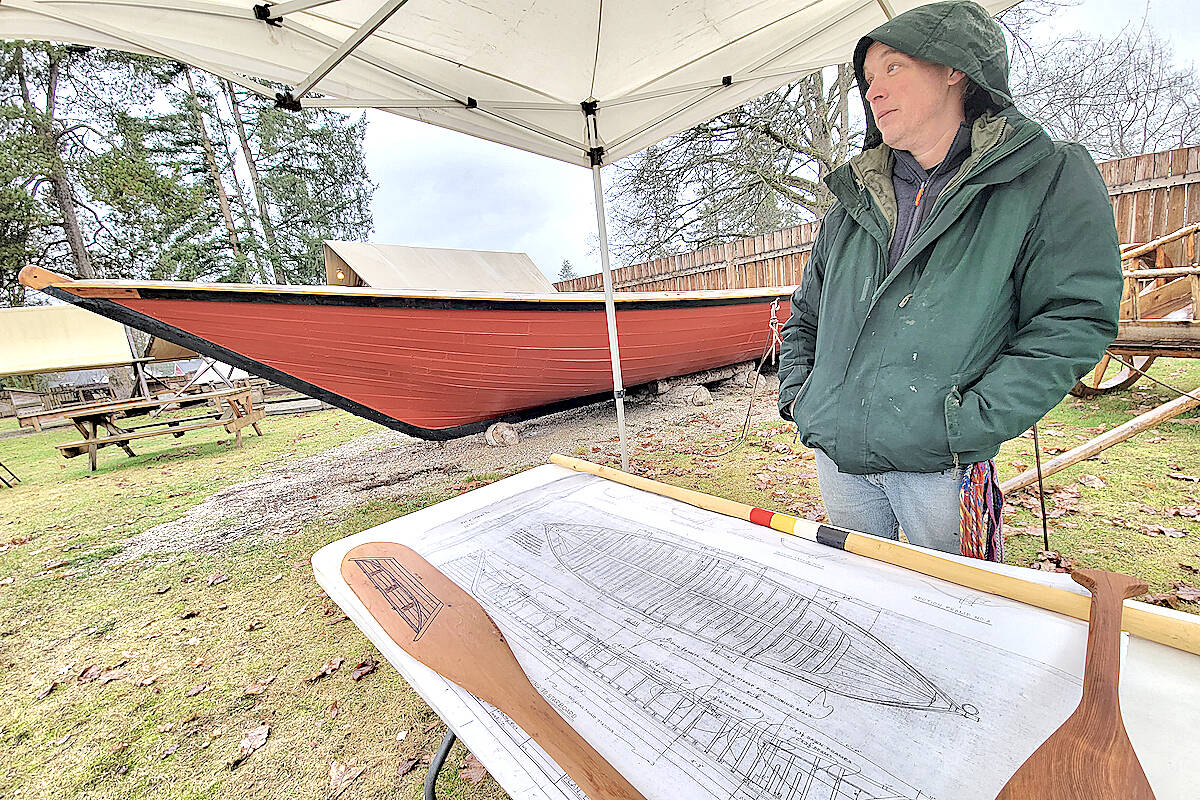 York boats were a key part of the fur trade, preferred as cargo carriers because they could handle rough water better than the relatively fragile birch bark canoes some trappers favoured.
Named after York Factory, the headquarters of the Hudson's Bay Company, the boats were modeled after a Scottish design that traces back to the Viking longships.
Working with fellow carver Sean Anton, the 43-foot boat took Calihou six months to complete.
"We came here every day," Calihou recalled.
"Some days, we were the only people allowed in the fort [due to pandemic restrictions]."
Calihou, a Metis artist who lives in Maple Ridge, brought a Red River cart of his creation to this weekend's Vive les Voyageurs.
Metis people in the Prairies during the settlement of the West used the two-wheeled wooden cart made entirely of non-metallic materials.
Running Saturday and Sunday, it was the first post-pandemic Vive les Voyageurs, and Jade Szymanksi, promotions officer at Fort Langley NHS, was glad to see it back.
"We had a two-year hiatus due to the pandemic but we're really thrilled to be offering this festival again," Szymanksi said.
Many of the Hudson's Bay Company workers who once occupied Fort Langley were of French-Canadian or Métis origin, transporting furs between the fort and other remote outposts.
The festival featured a wide variety of historical presentations, including musical performances, presentations about trapping techniques and Metis history, as well as traditional French-Canadian treats like maple taffy.
More pictures from the event can be viewed online at the Langley Advance Times Facebook page.
READ ALSO: Rebuilding history in the Red River cart
READ ALSO: VIDEO: Langley City heritage picnic shines a light on the almost-forgotten history of the Voyageurs
---
Have a story tip? Email: dan.ferguson@langleyadvancetimes.com
Like us on Facebook and follow us on Twitter.