Surrey city council received an update on the Surrey-Langley SkyTrain project Monday afternoon from the expansion's executive project director, Jennifer MacLean.
Transportation Investment Corporation (TI Corp) is the provincial Crown corporation delivering the project, with major construction beginning in 2024. MacLean noted the line will "generally" run within existing roadway right-of-ways, generally in the centre but in some parts on the north or south side.
"The potential for job growth and economic opportunity is exciting," she told Surrey council during its council-in-committee meeting Feb. 13. "Local businesses will be better able to attract employees from further afield because of this new transportation option."
MacLean said the expansion will bring with it roughly 24,000 annual direct and indirect jobs and 14 kilometres of pathways. It will see the Expo Line expanded by 16 kilometres along elevated track between King George Station and its 203 Street Terminus station in Langley City.
There will be eight stations, at 140 Street, 152 Street, 160 Street, 166 Street, 184 Street, 190 Street, 196 Street and Fraser Highway station, with the end of the line at 203 Street.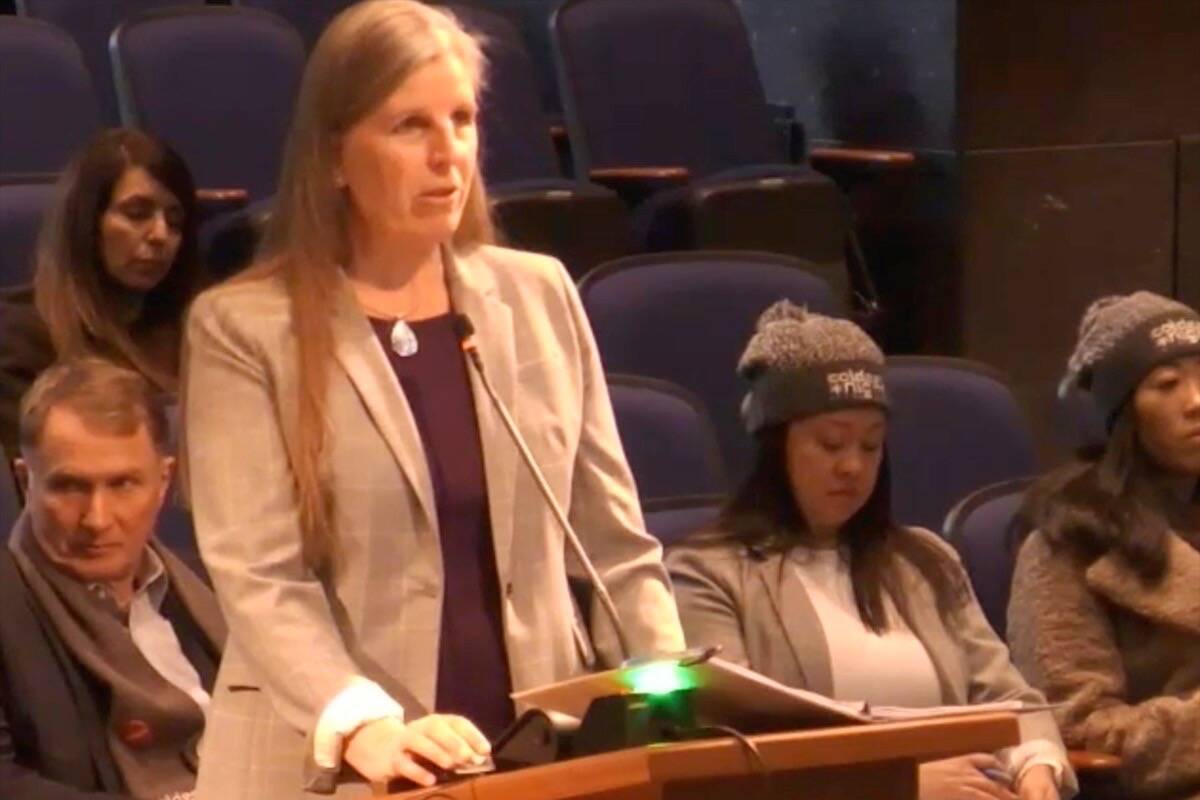 Jennifer MacLean, Executive Project Director, Surrey-Langley SkyTrain Project. (Screen shot)
MacLean said the 140 Street station features a "unique" design that's more complex to construct, "but for good reason.
"This station was designed to minimize impacts on Green Timbers Urban Forest," she explained. "It has as small a footprint as possible on the ground level so as not to encroach on the surrounding treed areas or the local aquatic and fisheries sources. As a result, the design is quite different from other station designs that you will see."
Opening day will be in late 2028, MacLean told council, putting passengers a 22-minute ride between King George Station and Langley City, and a 65 minute ride between Langley City Centre and Waterfront Station in downtown Vancouver.
She also noted that the widening of Fraser Highway is "effectively complete."
Meanwhile, Coun. Doug Elford says, Surrey's east-west connectivity is currently in a "desperate" state.
"When we start building the SkyTrain, that's going to restrict traffic on Fraser Highway," Elford recently told the Now-Leader. "How the heck are we going to get around town with restrictions on Fraser Highway? It's going to be very challenging for people. What do you take, 96 Avenue or 64 Avenue?
"How are we going to get around this?" Elford asks. "Well there is no getting around it, really. So that's something we're going to be hearing about constantly. There is the idea that maybe we should be looking at extending 72 Avenue. Of course, that's going through farmland, and there's always that concern, but it you look at it, where do all our roads run through? Farmland – 152 Street, 168 Street, 176 Street. It's all through farmland, 64 Avenue.
"So, I think we really have to look at maybe adding that second east-west connection just to take the heat off 64th," Elford maintains. "They keep bringing people in, and they gotta get around."
---

tom.zytaruk@surreynowleader.com
Like us on Facebook Follow us on Instagram and follow Tom on Twitter